Calcium Protection
To Order Calcium Protection:
Use Your Credit Card:


Order On Line For: $10.25 Each
90 Tablets Per Bottle:
Secure On Line Credit Card Ordering:


The Hard Facts About Brittle Bones: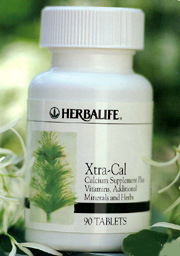 Calcium is the most abundant mineral in the human body and it plays a vital role in your everyday health. A diet deficient in Calcium can cause bones to become fragile, brittle and susceptible to fractures. This can lead to a condition called "osteoporosis," characterized by a reduction in bone density which afflicts millions of people throughout the world. According to the U.S. Food and Drug Administration, some 1.3 million bone fractures a year are attributed to osteoporosis. Because menopause causes a drop in the body's ability to assimilate Calcium, all women have a greater propensity to develop varying degrees of osteoporosis. Even me need to be aware of their Calcium intake to prevent unnecessary bone thinning. Many people perceive osteoporosis as an ailment that strikes older individuals. According to recent medical reports, a diet void of Calcium rich foods, lack of exercise and a stressful lifestyle can alter the body;s ability to effectively absorb bone strengthening calcium at any age. Why take chances with your health? Start investing in your body now with Herbalife products, a healthy lifestyle and exercise so you don't have to alter your quality of life later.
Xtra-Cal
Contains the most concentrated form of Calcium available in a tablet. Xtra-Cal is loaded with the most concentrated form of Calcium available and it can help aid in the prevention of osteoporosis. It's also formulated with several other vitamins and nutrients for further enhance your skeletal health.
> Three tablets of Xtra-Cal supply 100 percent of the USDRA so you can be certain you are taking the best preventative measures possible.
> Contains Vitamin D to aid Calcium absorption.
> Includes Magnesium which may help protect your bones, heart, arteries and blood pressure.
> Formulated with Horsetail, and herb known as Equisetum that is rich in silicon, a trace mineral recognized as essential for proper bone development.