Build Strength


Build Bulk And Muscle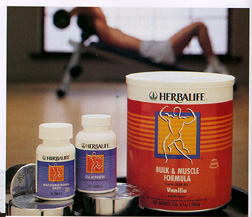 Lots More Information About Bulk & Muscle Below:

Bulk & Muscle Formula Protein Drink Mix
$54.95
You will be directed to a PayPal Secure credit card transaction page when you click on the button above

Super- effective muscle builder.
Bulk & Muscle Formula is exclusively designed to meet the extra nutritional requirements of athletes involved in
muscle development programs.
Contains a whopping 30 grams of supreme-quality protein, considered the maximum the body can effectively
assimilate at any one time.
Scientifically formulated with vitamins, minerals, essential amino acids, protein-sparing carbohydrates,
natural performance enhancers and a premium blend of energy-boosting herbs.
Includes ingredients such as Protomysonin, Herbalife's exclusive blend of isolated soy protein, caseinate, whey protein concentrate, egg albumin and the amino acid L-glutamine. Protomyosin has a Protein Digestibility Corrected AMino Acid (PDCAA) score of 1.00, the highest score for labeling protein quality.
Features Aminogen, a phytoenzyme system that accelerates the digestion of complex proteins into di-and tri-peptides
and free amino acids for rapid uiptake by the digestive system and muscle tissue.